Activated Charcoal Face Mask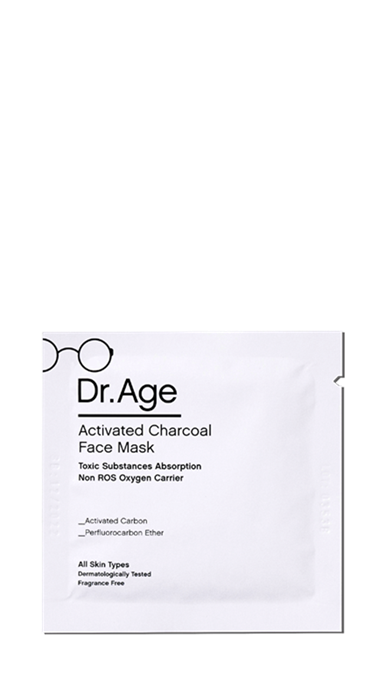 Activated Charcoal Face Mask
YOUR SKIN OXYGEN BOOST

DESCRIPTION
Best-in-class ingredients target skin pollutants and impurities. Proven to reach deep into the pores to remove toxins and excess sebum, and increase the flow of oxygen to skin cells.  Activated carbon clings to toxins and purges pores, and enhanced flow of oxygen to skin cells delivers immediate purification and enhanced radiance.
BENEFITS
Immediate purification
Restores radiance
Cooling and refreshing effect
WHAT IT DOES
Activated Charcoal Face Masks contain a unique blend of ingredients clinically proven to target clogged pores and excess oil and protect skin from environmental factors.  
Activated Carbon (Charcoal): Carbon is known to bind to toxins and reach deep into the pores to extract impurities, excess sebum, and bacteria for enhanced skin purification and radiance.
Perfluorocarbon Ether (Non-ROS Oxygen Carrier): This high-tech ingredient increases the flow of oxygen and vital nutrients to skin cells, which in turn stimulates their metabolism and produces healthier and more radiant skin.
HOW TO USE
HOW TO USE: Apply a thin and even layer to clean, dry skin over your face and neck, avoiding contact with the eye area. Let it set for 5-10 minutes or until your face is covered with sparkling bubbles. Then gently massage using small, upward, circular motions, avoiding contact with the eye area. Do not rub. Remove with wet cotton pads. Rinse thoroughly. Use of broad-spectrum sunscreen is recommended.
IMPORTANT: Always use as directed. If irritation occurs, discontinue use and consult a medical professional. Avoid contact with the eyes. If this does happen, rinse well with water. For adults only. Keep out of reach of children. For external use only. Store in a cool, dark place.
INGREDIENTS
Aqua (Water), Methyl Perfluorobutyl Ether, Isododecane, Glycerin, Butylene Glycol, Cocamidopropyl Betaine, Polyglyceryl-10 Laurate, Triethanolamine, Carbomer, Phenoxyethanol, Polysilicone-11, PEG-12 Dimethicone, Charcoal Powder, PEG-12 Allyl Ether, Ethylhexylglycerin, PEG-12, Decyl Glucoside, Polyglycerin-10, Polyglyceryl-10 Myristate, Polyglyceryl-10 Stearate, Disodium EDTA, Citric Acid, Sodium Dehydroacetate.
Note that ingredient lists may change or vary from time to time. Please refer to the list on the product package you receive for the most up-to-date ingredients.